FOR Å SE ALFAZ DEL PI KOMMUNES KULTURPROGRAM FOR DENNE MÅNEDEN
,
KLIKK HER
.
MONTHLY MEETING ASSOCIATIONS
7 September2022
Plenary Room
We are happy to start our monthly meetings again after the summer break as we have got some important and interesting issues:
- 7 new police men have started in the last weeks
- Last year account remains 909.000, the Town Hall will be able to start different projects as:
→ a green aerea with sport park behind the Pau Gasol pavilion, where people can walk or jog with the possibilty of work outs. A beach handball pitch and skate park improving and enlarging
→ changing rooms and showers for football pitches in Albir in the former cafetaria from Centre Social Albir
→ asphalt Mitja Llegua from the Notaries' roundabout at l'Arabi to the new roundabout from N332
→ renew the roundabout at Av.Pais Valencia with Carrer el Pinxo, direction Forum and Barranco Hondo
→ Cycle lane from Don quichote to El Cautivador
- Diputación, the province of Alicante is financing the cycle/pedestrian lane from Alfaz del Sol to Don Quichote
- Mediaprop is a mediation service to help people solve conflicts with neighbours,
relatives, at school etc. It is a free service. Appointments to be made at Social Services.
Tel 96 5991102
Mediation on Wednesdays and thursdays from 4 untill 7 pm in l'Alfàs +Social. Also in English available
- Justiprop is a service for legal advice. Appointments aswell at social Services 965887328
Legal advice on Wednesdays from 3 to 7 pm
- Bono consumo. 117.526 Euros, businesses can subscribe to participate untill 29 September.
Inhabitants from l'alfàs del Pi can buy vouchers on www.alfasbonosconsumo.es
If your maximum amount voucher of € 100, you pay € 50 but you can also buy small voucher in order to spend smaller amounts or buy in different shops, untill 9 October
Facpyme was chosen to organise the bono consumo, being a busniness and entrepreneur association from Alicante. Doing the same bono consumo procedure for Cox, Busot, Altea, Elche, finestrat etc.
- Online Spanish Courses from Diputación, you find the information below
- Spanish courses A1 and A2, from October in Centro social Albir, information attached
- Photography course on Friday 16 September between 3 and 5 pm in Casa de cultura and photographic competion to take part in solidary calendar from the Food Bank
AGENDA
•
Balconades untill 2 October in l'Alfàs del Pi, later to Agost and Benimantell, 64 artists of which many international
•
Biblioplaya untill 15 September with online national and international press, magazines and books. Open from 10 to 1 pm and 5 untill 8.30 pm
•
Friday 16 September at noon, Inauguration of 3000 year Alicante Wine history Exhibition at Anchor in Albir. The exhibition was already Elda and Calpe. The history is told by three important illustrators born in Alicante.
•
Friday 16 September at 7.30 pm Sports Gala on covered sport pitch. Local sports men and women will be awarded.
•
Friday 16 September at 8 pm inauguration painting exhibition students from Rina Castelucci
•
Saturday 17 September at 10 am in Pau Gasol Pavilion: Self defense Course for women by Krav Maga and the Equailty Councillorship
•
Saturday 17 September from 9.30 untill XXI Cycling schools Trophy
•
Saturday 17 September at 9 pm in Casa de Cultura: Jazz with Carlos Gonzalbez trio, featurig Perico Sambeat and Vor Garcia. Carlos Gonzalbez is said to be the best Jazz guitar player in Spain and Perico Sambeat is one of the best in the Spanish Jaz scene.
•
Friday 23 September at 6.30 pm in Casa de Cultura: theatre for the whole family, play "Donde habitan las estrellas", free entrance, from 3rd provincial festival of scenic arts by Diputación de Alicante
•
Saturday 24 September at 8 pm in Casa de cultura: Dance show by the company Otradanza representing Vigor Mortis. A distrubing and tragic comic trip between night mares and dreams. This play was awarded already three times, free entrance
•
Sunday 25 Septembre from 12h: l'Alfàs del Pi World Paella day
at swimming pool where collectives and associations form other nationalities prepare their paella
•
Board games afternoon, every last Wednesday from the month at Hogar del Peniosnsitas at 16.30 h, Wednesday 28 September
•
Friday 30 September at 8 pm The theatre group of Villajoyosa's Fibromialgia association presenting "Fibrovila" and some shetches
•
International Day l'Alfàs del Pi 16 October from 11 untill 17.30 at Casa de Cultura Square
•
Mozartmania 32nd edition Classical Music Festival 2022
Saturday 1 October at 8 pm – Inaugural concert by Festival Harmonie Orchestra playing "Gran Partita KV361 W.A.Mozart"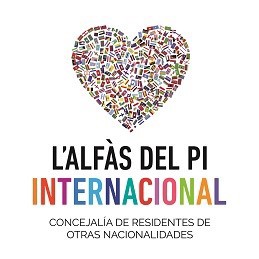 ONLINE SPANISH COURSE FOR INTERNATIONAL RESIDENTS
FEATURES OF THE ONLINE COURSE:
- Lasts approximately 9 months
- 400 licenses available
- Level test and Progression test.
- You will receive an email informing you that you have been accepted on the course, including access codes.
- You can log on to the system in one of the 14 available interface languages
Advantages:
- You will be able to log on to the system wherever you are, 24 hours a day, 7 days a week.
- PC access is recommended. Mobile phones and tablets can be used, although not all features will be available.
- The course is adapted to the level of each student. You can also work off-line by downloading the units beforehand.
- There is a tutorial (video-virtual) which explains how the system works (in Spanish, English, French, German and Portuguese).
- You will be able to customise the course according to your interests and progress.
- Technical assistance in Spanish and English by email.

PARTICIPATION REQUIREMENTS:
- You must be a foreign citizen registered in one of the municipalities of the province of Alicante. You must submit a copy of the certificate or registration form issued by your local council (those dated from June 2020 onwards will be accepted) when you register.
- You must have access to a computer with the technical requirements as described.
- You must have headphones or speakers and a microphone.
- You will not be admitted if you fail to fill in all the sections of the registration form or if you lack the required documentation (census registration).

Due to the limited number of places, you have to do the following to keep your place on the course:
- Take the level test during the first week after receiving the access codes. If you fail to do so, your place will be CANCELLED without prior notice.
We recommend checking your junk/spam folder, in case our emails or those of the company that teaches the course do not reach you correctly. To prevent the computer from considering it as spam you must add the following email addresses: noreply@rosettastone.com; cau.avanzo@avanzo.com; tutor.diputacionalicante@avanzo.com to your address book
- During the first month of the course, students have to complete a minimum of 10 hours of online training. Any students who fail to complete this minimum will be DISQUALIFIED without prior notice.
- You must do at least 50 hours of coursework over the duration of the course to receive your course certificate.

REGISTRATION:
- Registration is free of charge and is done on a first-come first-served basis on receipt of the registration form.
REGISTRATION DEADLINE: www.ciudadanosextranjeros.es until 30 September 2022 or until all available places are filled.